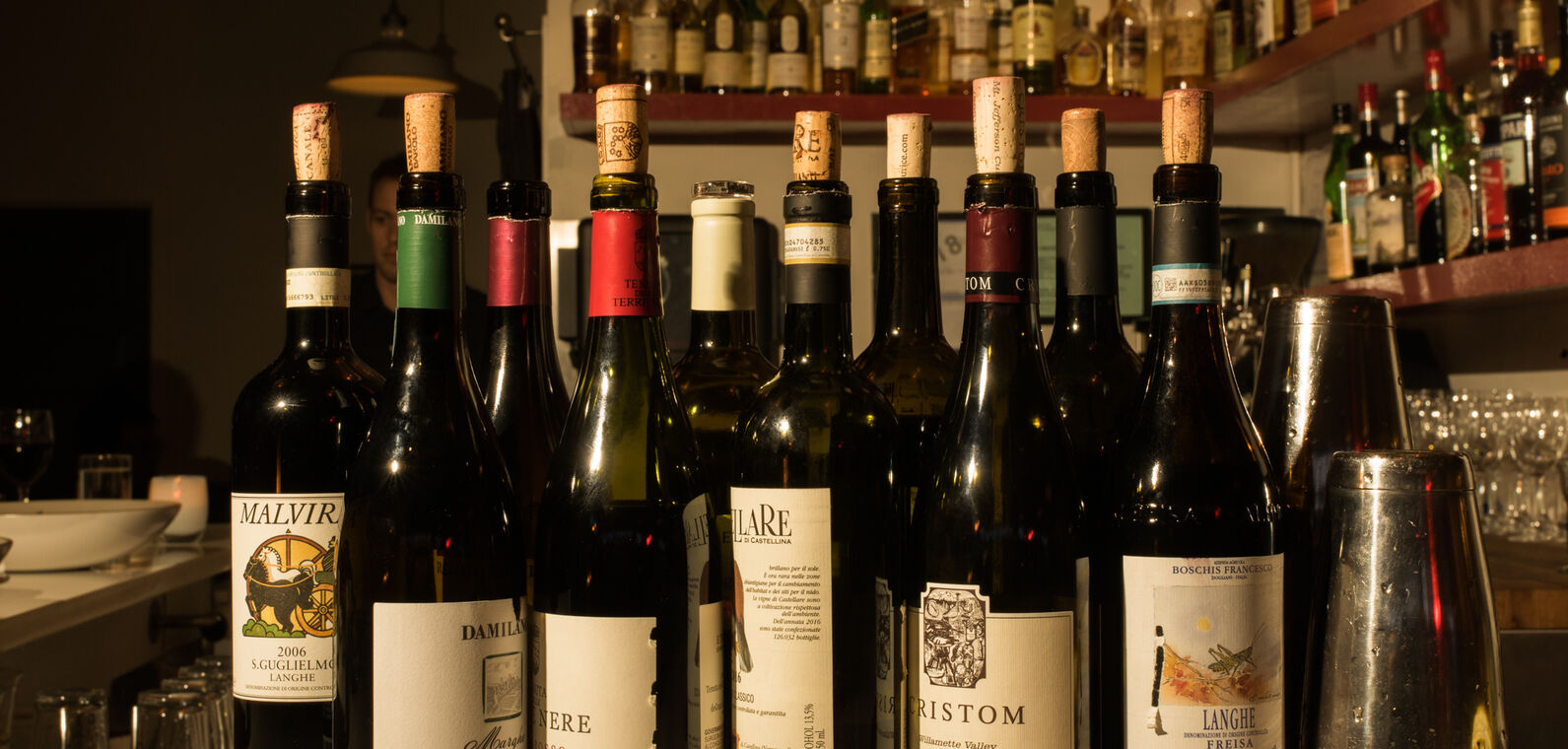 Prosecco Bortolomiol Miol (Veneto)
Aromas of white and tropical fruits. Fine dense bubbles give the palate a soft and seductive caress. Great as an aperitif or with food.
Price: 9/34
Il Rosé di Casanova La Spinetta 2017 (Piemonte)
A blend of Sangiovese and Prugnolo Gentile, this light pink rosé has aromas of sliced ripe peach with a dry finish and strong minerality. La Spinetta's rosé is extremely flavorful yet agile, sexy, and fresh.
Price: 12/55
Rose N.S. Della Neve G.D. Vajra (Piemonte)
An aromatic and vinous sparkling wine. Notes of tart wild raspberry, red cherry and red flower with the slightest hint of tannins. On the nose and palate it reveals "le marriage" between the sweet elegance of Pinot Noir and Nebbiolo's decisive character
Price: 16/69
Pinot Grigio "Dolomiti" Alois Lageder 2018 (Alto Adige)
Quite pronounced and expressive aroma with flowery and somewhat spicy notes. Rich flavored in the mouth, with a slight smokiness at the back and a good, fresh finish.
Price: 12/50
White Blend Buty 2016 (Columbia Valley)
This nuanced and sophisticated dry blend incorporates semillon, sauvignon blanc and a bit of muscadelle. From three renowned sites in the Columbia Valley, this wine boasts a natural bright acidity, a subtle minerality and a perfume like aroma.
Price: 14/60
La Morella "Il Monte" Cortese (Piemonte)
This lovely white is bright, fresh, and full of minerality. A beautiful and complex white made with minimal intervention, the "Il Monte" allows for the Cortese grape to shine!
Price: 13/55
Lugana Ottella 2016 (Lombardia)
Made from Trebbiano di Lugana grapes from Lake Garda this wine has a wonderfully round palate of stone fruit, green apple, and minerality alongside bright acidity.
Price: 11/48
Chardonnay Falesco Tellus 2016 (Umbria)
With aromas of crisp apples and citrus fruits, this unoaked Chardonnay pairs well with all of Lago's menu, particularly our Farfalle con Escarola.
Price: 10/45
Barbera D' Asti La Spinetta "Ca' Di Pian" 2016 (Piemonte)
Ruby red color with purple reflections and aromas of blueberry, wet earth and orange peel, This ultra-fine Barbera is full bodied with bright acidity and an intensity well balanced by its silky texture
Price: 14/60
Barolo "Albe" G.D. Vajra 2015 (Piemonte)
Sheer ruby red color. Aromas of red fruits and plums, pine needles and brushwood. It shows harmony of sophisticated and delicate flavors supported by an elegant acidity and ripe tannins.
Price: 16/75
Castellare di Casetellina Chianti Classico 2017 (Toscana)
This Chianti Classico opens with vivid aromas of cherries, red plums, spices and hints of earth and tobacco. A medium-bodied silky and balanced offering with lovely acidity balancing out a lingering finish.
Price: 12/55
Tenuta di Valgiano Vino Rosso 2014 (Toscana)
A blend of Sangiovese, Canaiolo, Colorino, Syrah and Merlot. This biodynamic wine is light, bright, fresh and lively. Imported directly for the Seattle market this wine is a must try!
Price: 14/60
Produttori del Barbaresco Langhe Nebbiolo 2018 (Piemonte)
Full-bodied, ripe and spicy with dark red fruit notes and powerful well-integrated tannins, this Nebbiolo is a must try!
Price: 15/60
Red Blend àMaurice "Carl Morris" 2015 (Walla Walla)
Winemaker Anna Schafer blends Cab Sauvignon, Merlot, and Cab Franc grapes grown in the Columbia Valley into this elegant expression of local terroir.
Price: 15/69
Pinot Noir Roco (Willamette Valley)
A chewy substantial Pinot Noir with dark fruit flavors of plum and black cherry. The old world style offers bold flavor with the balance and grace to pair well with nearly any of our dishes!
Price: 13/58
Rosso di Montalcino Leopoldo Franceschi 2016 (Toscana)
Deep rube red in color, with aromas of red and dark berries, underwood and sweet spices. It is rich and complex on the palate, but elegant at the same time, with velvety tannins and a very persistent finish.
Price: 15/70
Nero d'Avola Cantina Marillina "Sikele" 2014 (Sicilia)
Aromas of red fruit with notes of black pepper, tobacco and earth. A very well-balanced Nero d'Avola from natural winemakers Cantina Marillina. Try with our Cannelloni, Fettuccine or coppa pork cutlet.
Price: 13/55
Cepparello Isole e Olena 2015 (Toscana)
An aromatic blend of Sangiovese and Trebbiano provides a unique freshness to this bold Tuscan gem. Flavors of sweet rose petal, currant, and orange peel abound in this harmonious offering from Paulo De Marchi.
Price: 98
Brunello di Montalcino Vascosassetti 2014 (Toscana)
This is the perfect Brunello! Great balance of red and forest berries with a touch of oak and plenty of power. Full bodied with a nice dry finish.
Price: 98
Barbaresco Produttori del Barbaresco "Torre" 2016 (Piemonte)
A lovely and impeccably balanced Barbaresco with pretty notes of tobacco, licorice, and sweet red cherry that give way to a closing burst of acidity and a wonderfully long finish.
Price: 90
Barolo Paolo Scavino "Bricco Ambrogio" 2015 (Piemonte)
A bold and powerful Barolo with aromas of wild strawberry, cedar and spice. The 2015 Bricco Ambrogio is ready to drink now with terrific nuance, elegance and power. This is the perfect special occasion bottle.
Price: 115