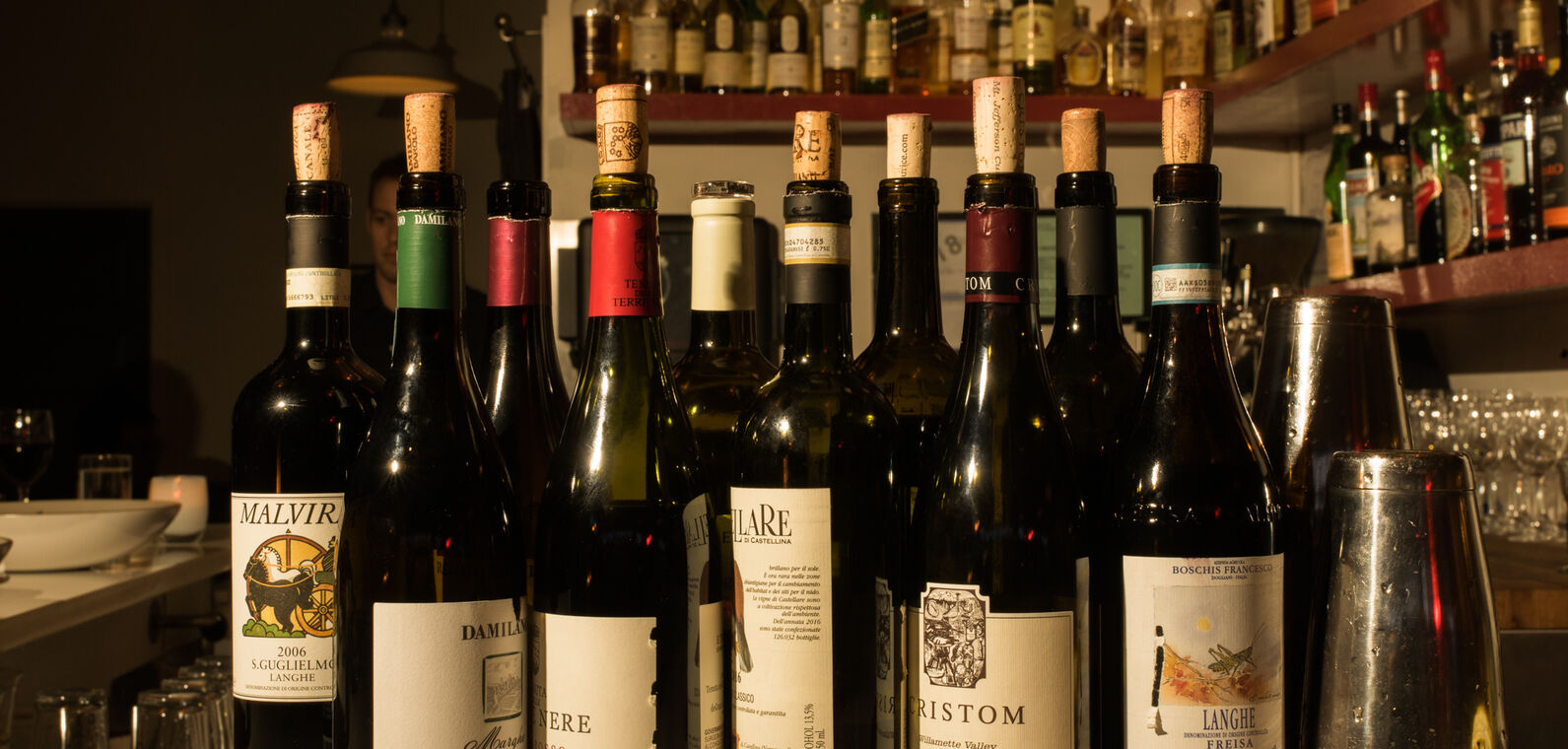 Prosecco Montelliana Valdobiadene (Veneto)
Aromas of white and tropical fruits. Fine dense bubbles give the palate a soft and seductive caress. Great as an aperitif or with food.
Price: 9/34
Cremant D'Alsace Josepht Cattin (Alsace)
100% Pinot Noir. This wine is a clear; elegant salmon pink with abundant and dynamic bubbles. Notes of red fruits such as cherry and black currants with a touch of yeast. Refreshing and creamy on the palate with fruity aromas of strawberry and lemon.
Price: 12/48
Il Rosé di Casanova La Spinetta 2017 (Toscana)
A blend of Sangiovese and Prugnolo Gentile, this light pink rosé has aromas of sliced ripe peach with a dry finish and strong minerality. La Spinetta's rosé is extremely flavorful yet agile, sexy, and fresh.
Price: 12/55
Pinot Grigio "Dolomiti" Alois Lageder 2018 (Alto Adige)
Quite pronounced and expressive aroma with flowery and somewhat spicy notes. Rich flavored in the mouth, with a slight smokiness at the back and a good, fresh finish.
Price: 11/45
Chardonnay Falesco Tellus 2016 (Umbria)
With aromas of crisp apples and citrus fruits, this unoaked Chardonnay pairs well with all of Lago's menu.
Price: 10/35
Lugana Ottella 2016 (Lombardia)
Made from Trebbiano di Lugana grapes from Lake Garda this wine has a wonderfully round palate of stone fruit, green apple, and minerality alongside bright acidity.
Price: 40
White Blend Buty 2016 (Columbia Valley)
This nuanced and sophisticated dry blend incorporates semillon, sauvignon blanc and a bit of muscadelle. From three renowned sites in the Columbia Valley, this wine boasts a natural bright acidity, a subtle minerality and a perfume like aroma.
Price: 60
Castellare di Casetellina Chianti Classico 2018 (Toscana)
This Chianti Classico opens with vivid aromas of cherries, red plums, spices and hints of earth and tobacco. A medium-bodied silky and balanced offering with lovely acidity balancing out a lingering finish.
Price: 12/55
Nebbiolo Cà Gialla Langhe 2018 (Piemonte)
Light ruby red in color with hints of black cherries and red fruits on the nose. Dried cherry upfront with modest tannins and a touch of earth on the finish.
Price: 12/48
Pinot Noir Yamhill Valley (Willamette Valley)
Pinot Noir Yamhill Valley 2016 (Willamette Valley) A beautiful estate Pinot Noir from Yamhill Valley winery. Hints of raspberry, mushroom, smoke and oak on the nose. Smooth cherry on the palate with a fresh spicy finish.
Price: 13/52
Red Blend àMaurice "Carl Morris" 2015 (Walla Walla)
Winemaker Anna Schafer blends Cab Sauvignon, Merlot, and Cab Franc grapes grown in the Columbia Valley into this elegant expression of local terroir.
Price: 16/69
Barbera D' Asti La Spinetta "Ca' Di Pian" 2016 (Piemonte)
Ruby red color with purple reflections and aromas of blueberry, wet earth and orange peel, This ultra-fine Barbera is full bodied with bright acidity and an intensity well balanced by its silky texture
Price: 55
Etna Rosso Tenuta delle Terre Nere 2018 (Sicilia)
Made from Sicily's own Nerello Mascalesse grape, grown on Etna's ancient, volcanic soils. Showcasing aromas of red fruits, minerals and earth. Fresh and fragrant it pairs wonderfully with hearty pastas and meaty pizza.
Price: 55
Super Tuscan Tenuta di Ghizzano "Nambrot" 2015 (Toscana)
This wine shows a sensual aroma, woven from the notes of dark cherry, herbs, smoke and leather. The wine has a generous, rich and full flavor with a silky texture, hints of chocolate and mocha, rounded tannins and a long, soft finish.
Price: 70
Barbaresco Produttori del Barbaresco "Torre" 2016 (Piemonte)
A lovely and impeccably balanced Barbaresco with pretty notes of tobacco, licorice, and sweet red cherry that give way to a closing burst of acidity and a wonderfully long finish.
Price: 90
Brunello di Montalcino Argiano 2015 (Toscana)
An intense ruby-red color. A good concentration in the mid-palate and a persistent aftertaste, yet round and luscious in body, with silky and interesting tannins. Combines power and elegance.
Price: 120