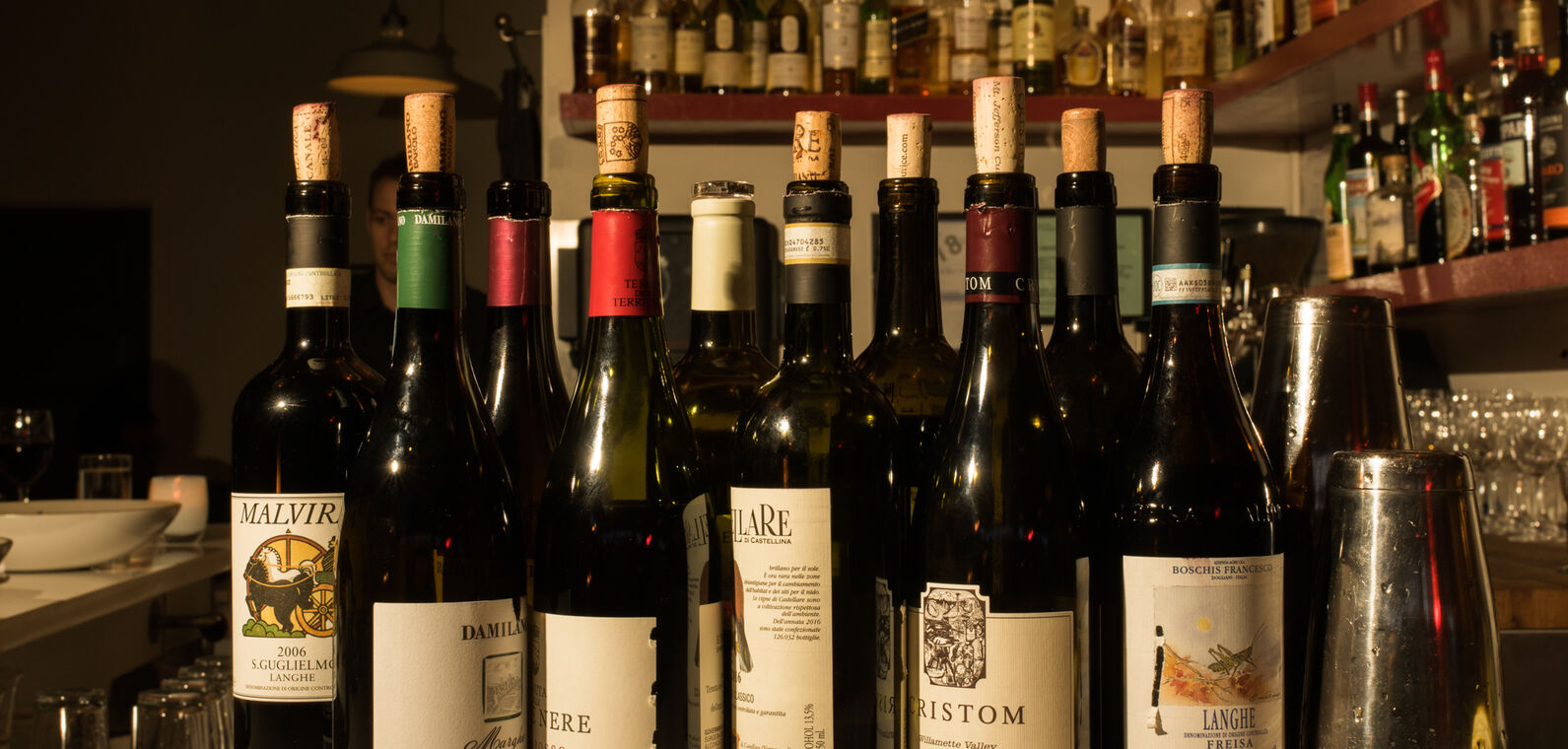 Prosecco Bortolomiol Miol (Veneto)
Aromas of white and tropical fruits. Fine dense bubbles give the palate a soft and seductive caress. Great as an aperitif or with food.
Price: 9/34
Il Rosé di Casanova La Spinetta 2017 (Piemonte)
A blend of Sangiovese and Prugnello Gentile, this light pink rosé has aromas of sliced ripe peach with a dry finish and strong minerality. La Spinetta's rosé is extremely flavorful yet agile, sexy, and fresh.
Price: 12/55
Pinot Grigio Elena Walch 2016 (Alto Adige)
This Pinot Grigio captivates with fruity notes of ripe pears, white pepper, and a bit of sage on the nose. With a mineral-salty richness and a prolonged finish, this will pair well with a light pasta or mild cheese dishes.
Price: 12/50
Pecorino Tenuta del Priore (Abruzzo)
Once thought extinct, this distinctive varietal brings a soft minerality with expressive floral notes of acacia, jasmine and even a hint of licorice. It's high acidity brings it balance and poise with a satisfying finish.
Price: 9/43
Verdicchio dei Castelli di Jesi 2016 (Le Marche)
From the coastal region of Le Marche comes Italy's native Verdicchio. With notes of citrus and zest on the nose and a refreshing mineralit on the palate this wine is the perfect summer drinker
Price: 10/42
Lugana Ottella 2016 (Lombardia)
Made from Trebbiano di Lugana grapes from Lake Garda this wine has a wonderfully round palate of stone fruit, green apple, and minerality alongside bright acidity.
Price: 11/48
Chardonnay Falesco Tellus 2016 (Umbria)
With aromas of crisp apples and citrus fruits, this unoaked Chardonnay pairs well with all of Lago's menu, particularly our Farfalle con Escarola.
Price: 10/45
Barbera D' Asti La Spinetta "Ca' Di Pian" 2014 (Piemonte)
Ruby red color with purple reflections and aromas of blueberry, wet earth and orange peel, This ultra-fine Barbera is full bodied with bright acidity and an intensity well balanced by its silky texture
Price: 14/60
Nebbiolo Franco Serra 2017 (Piemonte)
With its characteristic brick red color, this Nebbiolo combines herbal tea and floral notes with flavors of savory olive and thyme. The classic lasting finish and assertive tannins pairs excellently with our pheasant.
Price: 14/60
Chianti Castellare di Castellina 2017 (Toscana)
This Chianti Classico opens with vivid aromas of cherries, red plums, spices and hints of tobacco and earth. A medium bodied, silk and balanced offering with lovely acidity balancing out a lingering finish.
Price: 12/55
Sangiovese Eight Bells 2015 (Yakima Valley)
A wonderful expression of Sangiovese from the Ravenna-based urban winery, Eight Bells. Ruby-garnet in color with a nose of bright dried cherry and plum.
Price: 68
Red Blend àMaurice "Carl Morris" 2015 (Walla Walla)
Winemaker Anna Schafer blends Cab Sauvignon, Merlot, and Cab Franc grapes grown in the Columbia Valley into this elegant expression of local terroir.
Price: 15/69
Pinot Noir Roco (Willamette Valley)
A chewy substantial Pinot Noir with dark fruit flavors of plum and black cherry. The old world style offers bold flavor with the balance and grace to pair well with nearly any of our dishes!
Price: 13/58
Aglianico Mastroberardino 2016 (Campania)
A wonderful 100% Aglianico from Mastroberardino with aromas of strawberry, cherry, and blackberries. Smooth, bold, and elegant this is a great everyday drinker.
Price: 12/55
Super Tuscan Selvapiana Fornace 2013 (Toscana)
A full-bodied blend of Merlot, Cabernet Sauvignon and Cabernet Franc, this is a beautiful wine with a bold intensity of flavors enhanced by dense tannins, bright acidity and a slightly bitter herbaceous finish.
Price: 68
Cepparello Isole e Olena 2011 (Toscana)
An aromatic blend of Sangiovese and Trebbiano provides a unique freshness to this bold Tuscan gem. Flavors of sweet rose petal, currant, and orange peel abound in this harmonious offering from Paulo De Marchi.
Price: 98
Brunello di Montalcino Casa Nova de Neri 2013 (Toscana)
This fantastic Brunello from one of the region's premier producers has a wealth of ripe fruit with spice, orange peel and cherry. Full bodied with fine tannins and a bright and vivid finish.
Price: 95
Etna Rosso De Aetna 2016 "Sicilia"
Beautifully fragrant aromoas of strawberries, raspberries and tomato leaf lead through to a cherry dominated medium-bodied palate with underlined minerals, tobacco and sweet oak. With a wonderfully persistent finish
Price: 65
Barolo Serralunga D'Alba Fontanafredda 2013 (Piemonte)
Woodland berry and rose lifet from the glass. Firmly structured but also boasting finesse, the focused palate presents red cherry, raspberry, and a hint of clove. A fantastic Barolo from a strong vintage.
Price: 90
Barbaresco Produttori del Barbaresco "Torre" 2015 (Piemonte)
A lovely and impeccably balanced Barbaresco with pretty notes of tobacco, licorice, and sweet red cherry that give way to a closing burst of acidity and a wonderfully long finish.
Price: 62