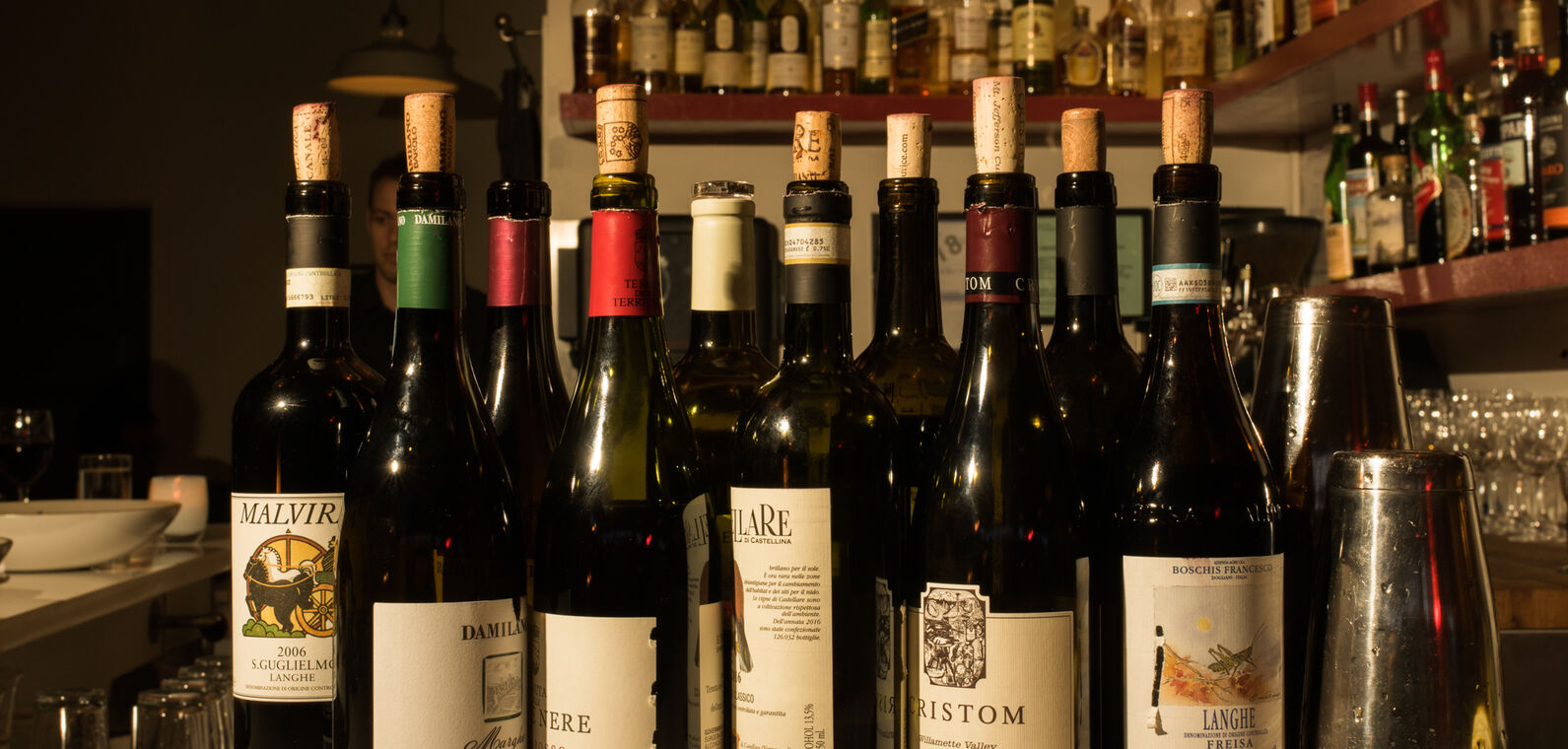 Prosecco Bortolomiol Miol (Veneto)
Aromas of white and tropical fruits. Fine dense bubbles give the palate a soft and seductive caress. Great as an aperitif or with food.
Price: 9/34
Il Rosé di Casanova La Spinetta 2017 (Piemonte)
A blend of Sangiovese and Prugnello Gentile, this light pink rosé has aromas of sliced ripe peach with a dry finish and strong minerality. La Spinetta's rosé is extremely flavorful yet agile, sexy, and fresh.
Price: 12/55
Etna Rosato Tenuta delle Terre Nere 2017 (Sicilia)
From the northern slopes of Mt. Etna, this classic rose is cool, lively and has an austere fragrance. With a typically fruity nose, a pleasing body and lasting finish, it will not disappoint!
Price: 12/55
Pinot Grigio Elena Walch 2016 (Alto Adige)
This Pinot Grigio captivates with fruity notes of ripe pears, white pepper, and a bit of sage on the nose. With a mineral-salty richness and a prolonged finish, this will pair well with a light pasta or mild cheese dishes.
Price: 12/50
Pecorino Tenuta del Priore (Abruzzo)
Once thought extinct, this distinctive varietal brings a soft minerality with expressive floral notes of acacia, jasmine and even a hint of licorice. It's high acidity brings it balance and poise with a satisfying finish.
Price: 9/43
Verdicchio dei Castelli di Jesi 2016 (Le Marche)
From the coastal region of Le Marche comes Italy's native Verdicchio. With notes of citrus and zest on the nose and a refreshing mineralit on the palate this wine is the perfect summer drinker
Price: 10/42
Lugana Ottella 2016 (Lombardia)
Made from Trebbiano di Lugana grapes from Lake Garda this wine has a wonderfully round palate of stone fruit, green apple, and minerality alongside bright acidity.
Price: 11/48
Viognier àMaurice 2017 (Walla Walla)
This is winemaker Anna Schafer's personal favorite, a richly textured white with notes of peach, tangerine, and honey and an expressive finish of blanched almonds.
Price: 14/60
Chardonnay Falesco Tellus 2016 (Umbria)
With aromas of crisp apples and citrus fruits, this unoaked Chardonnay pairs well with all of Lago's menu, particularly our Farfalle con Escarola.
Price: 10/45
Barbera D' Asti Renato Ratti "Battaglione" 2016 (Piemonte)
A classic Barbera with trace scents of ripe plum and an undercurrent of mixed spices. Both rich in body and color, this wine is warm and robust while remaining pleasantly tart.
Price: 12/55
Nebbiolo Marchesi Di Gresy "Martinenga" (Piemonte)
Fine, delicate and persistent bouquet with characteristic trace scents of strawberry and raspberry. A juicy yet dry Nebbiolo with fresh acidity and a harmonious finish.
Price: 14/60
Chianti Castellare di Castellina 2015 (Toscana)
This Chianti Classico opens with vivid aromas of cherries, red plums, spices and hints of tobacco and earth. A medium bodied, silk and balanced offering with lovely acidity balancing out a lingering finish.
Price: 12/55
Etna Rosso Tenuta delle Terre Nere 2016 (Sicilia)
Made from the beautifully named Nerello Mascalese grape, this wine from the slopes of Mt. Etna has an aroma of red roses and plums with a spicy and lively energy.
Price: 12/55
Sangiovese Eight Bells 2015 (Yakima Valley)
A wonderful expression of Sangiovese from the Ravenna-based urban winery, Eight Bells. Ruby-garnet in color with a nose of bright dried cherry and plum.
Price: 68
Red Blend àMaurice "Alden Mason" 2014 (Walla Walla)
Winemaker Anna Schafer blends Cab Sauvignon, Merlot, and Cab Franc grapes grown in the Columbia Valley into this elegant expression of local terroir.
Price: 15/69
Pinot Noir Quadri 2016 (Venezie)
Ruby red with notes of cherry, licorice, and red berry fruit. Medium bodied and low in tannin, a beautiful Pinot Noir from Veneto.
Price: 10/45
Aglianico Mastroberardino 2016 (Campania)
A wonderful 100% Aglianico from Mastroberardino with aromas of strawberry, cherry, and blackberries. Smooth, bold, and elegant this is a great everyday drinker.
Price: 12/55
Super Tuscan Selvapiana Fornace 2012 (Toscana)
A full-bodied blend of Merlot, Cabernet Sauvignon and Cabernet Franc, this is a beautiful wine with a bold intensity of flavors enhanced by dense tannins, bright acidity and a slightly bitter herbaceous finish.
Price: 68
Cepparello Isole e Olena 2011 (Toscana)
An aromatic blend of Sangiovese and Trebbiano provides a unique freshness to this bold Tuscan gem. Flavors of sweet rose petal, currant, and orange peel abound in this harmonious offering from Paulo De Marchi.
Price: 98
Brunello di Montalcino Altesino 2013 (Toscana)
This fantastic Brunello from one of the region's premier producers has a wealth of ripe fruit with spice, orange peel and cherry. Full bodied with fine tannins and a bright and vivid finish.
Price: 95
Nero D'Avola Occhipinti SP68 2016 (Sicilia)
Arianna Occhipinti's wine is a Sicilian song with notes of smoke, raspberry, and spot on acidity; an elegant blend of the brooding Nero D'Avola grape with bright Frappato.
Price: 60
Roero Riserva Deltetto "Braja" 2012 "Piemonte"
A beautiful expression of both Nebbiolo's power and its elegance from the Roero with notes of violets, baked fruit, and sweet spices.
Price: 65
Barolo G.D. Vajra "Albe" 2013 (Piemonte)
One of the finest Barolo in its price range with intense floral scents of freshly cut roses and wild violets. This Barolo is a harmony of sophisticated flavors supported by elegant acidity and ripe tannins.
Price: 72
Barbaresco Produttori del Barbaresco "Torre" 2014 (Piemonte)
A lovely and impeccably balanced Barbaresco with pretty notes of tobacco, licorice, and sweet red cherry that give way to a closing burst of acidity and a wonderfully long finish.
Price: 62
Syrah Pursued by Bear "Baby Bear" 2012 (Columbia Valley)
Actor-cum-winemaker Kyle McLachlan and partner Eric Bunham have expertly harmonized boysenberry and blackberry flavors with the slightly spicy characteristics of a classic Syrah. Medium to full bodied with soft tannins, this Syrah is an exceptional example of what Washington State can do with this wonderful varietal.
Price: 98